1998-2018: 20 Years BLOODSHED666 Records – Label Compilation
ANALENA – Life In Exclamation Marks
QUETZAL – The Treasure
LVMEN– XXIV
GFRAST – Kein Verlust
PHAL:ANGST – The Books (JK FLESH Remix)
GRRZZZ – Jesus Crust
ASSATA – PSK 9023434
CYRUSS – Codec
DRESCHFLEGEL – One World
DESOLAT – Still Fuck You Suit Man
NULA – Monopol (live)
RADIKALKUR – Malaria
DESPERATE CRY – Ants
JASON – Cavalo De Prata
EVIL BEAVER – Gross
FLOWERS IN CONCRETE – Leuchtkäfer (live)
BRAMBILLA – Fünfteilen
DIM PROSPECTS – Headlights And Black Spots
E.M.S. – Töten
NIVE – Fuck All Others
BBS PARANOICOS – Eterno Retorno
AUSTIN LUCAS – Go West
Bloodshed666 Records 2018 – bs 17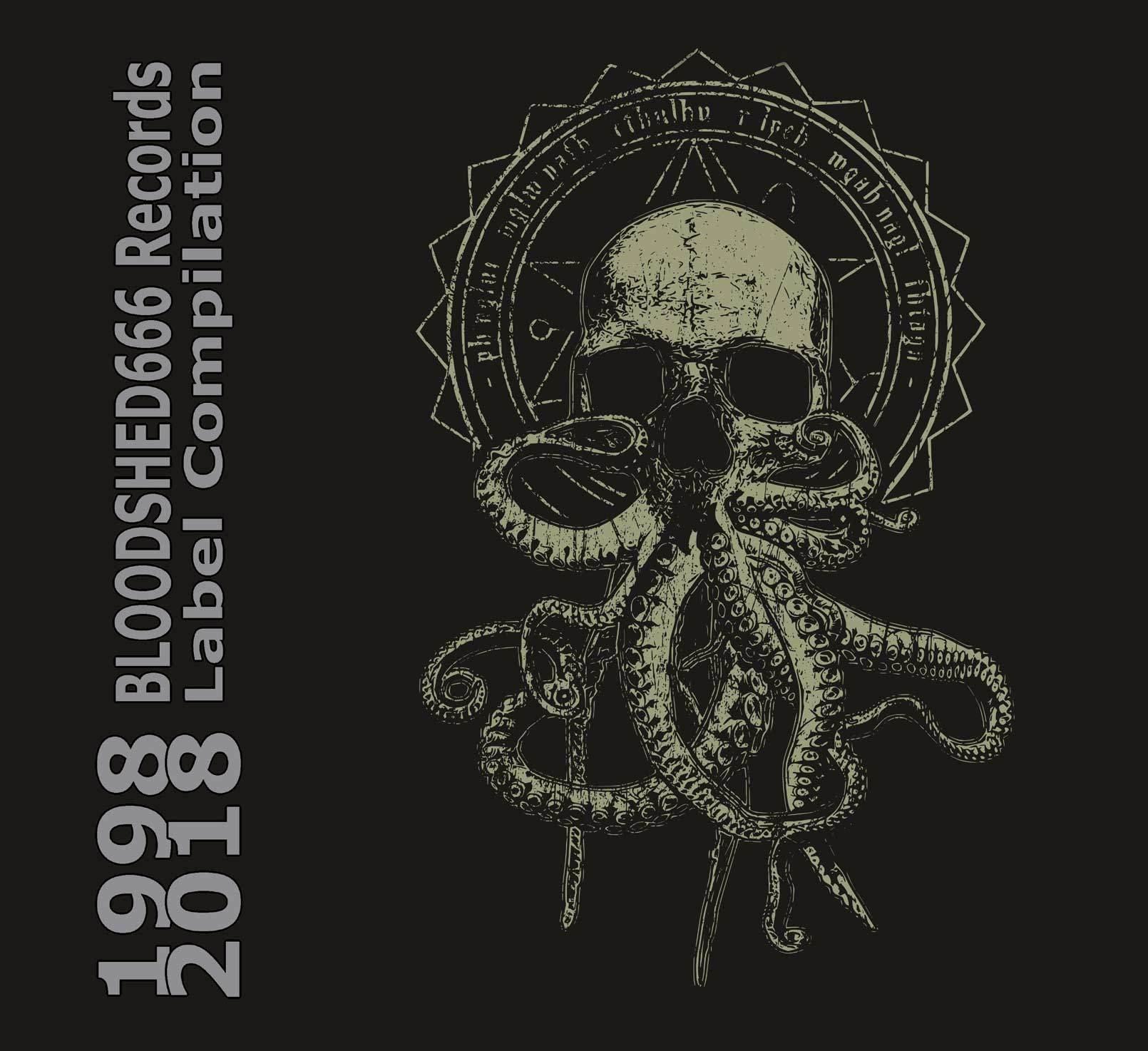 1998-2018: 20 Years BLOODSHED666 Records – Label Compilation
ANALENA (Zagreb) – Life In Exclamation Marks (2:59)
from the album "Inconstantinopolis" (Moonlee Records, 2009)
QUETZAL (Antwerp, r.i.p.) – The Treasure (6:08)
physically unreleased (recorded 2002)
LVMEN (Prague) – XXIV (6:48)
from the album "mitgefangen mitgehangen" (Day After Records, 2018)
GFRAST (Vienna) – Kein Verlust (4:21)
from their 2nd self-titled release (self released, 2017)
PHAL:ANGST (Vienna) – The Books (JK FLESH Remix) by Justin Broadrick (5:34)
from the album "Phase IV" (Bloodshed666, 2018)
GRRZZZ (Paris) – Jesus Crust (4:34)
from the album "un peu de souplesse dans les barbelés" (Sordide Sentimental, 2002)
ASSATA (Vienna, r.i.p.) – PSK 9023434 (1:58)
from their self titled LP (self released, 2003)
CYRUSS (Vienna, r.i.p.) – Codec (0:50)
previously unreleased (recorded 2005)
DRESCHFLEGEL (Amstetten, r.i.p.) – One World (0:52)
previously unreleased (recorded 2003)
DESOLAT (Vienna) – Still Fuck You Suit Man (4:27)
previously unreleased (recorded 2018)
NULA (Sibenik) – Monopol (live) (2:56)
physically unreleased (recordedlive, Ljubljana, 13.9.2003)
RADIKALKUR (Vienna, r.i.p.) – Malaria (1:45)
from the split-LP with JASON (Bloodshed666, 2003)
DESPERATE CRY (Vorchdorf, r.i.p.) – Ants (3:42)
from the album "theantsaremyfriends" (Bloodshed666, 2002)
JASON (Rio de Janeiro) – Cavalo De Prata (2:59)
previously unreleased (recorded 2015-2018)
https://jasonbrasil.bandcamp.com 
EVIL BEAVER (Los Angeles, r.i.p.) – Gross (3:11)
physically unreleased (recorded 2014)
https://soundcloud.com/evilbeavermusic
FLOWERS IN CONCRETE (Weiz) – Leuchtkäfer (live) (2:12)
previously unreleased (recorded live, Graz, 9.5.2018)
www.facebook.com/flowersinconcrete
BRAMBILLA (Vienna, r.i.p.) – Fünfteilen (1:44)
from the "Machts Gut Ihr Idioten" 7" (Fettkakao, 2009)
DIM PROSPECTS (Vienna) – Headlights And Black Spots (2:54)
from their self titled album (Lunadiscs, 2015)
E.M.S. (Waidhofen/Ybbs, r.i.p.) – Töten (2:21)
previously unreleased (recorded 2001)
NIVE (Vienna) – Fuck All Others (1:02)
from the album "Employee Of The Day" (Bloodshed666, 2015)
BBS PARANOICOS (Santiago de Chile) – Eterno Retorno (2:39)
from the album "Delusional" (Pulpa Discos, 2018)
AUSTIN LUCAS (Bloomington) – Go West (4:34)
from the Album "Somebody Loves You" (Suburban Home, 2009)
running time: 71:26min.
This Cd is only available at the label birthday party on 21st December 2018 at the EKH in Vienna. 300 copies made, no repress.
Thanks to Julia for translations.
Thanks Alexandr Vatagin for mastering the compilation.
Artwork: Cthulhu Cultist design by Grumpy Geeks. T-shirts available at www.grumpygeeks.eu
1998-2018: 20 Years BLOODSHED666 Records
On 18th December 1998 the RADIKALKUR / E.M.S. – split 7″ was presented at a release party at the EKH in Vienna, and RADIKALKUR, E.M.S. & DESPERATE CRY were playing live that night. To be more precise, the 7″ was released by E.M.S. as HKV and RADIKALKUR as GREEN LEAF RECORDS, and by our friends Jan and Marco on their labels CAPEET and PARANOIA!.
I sang in E.M.S., later joined RADIKALKUR on guitar. Gernot, the singer in RADIKALKUR, and myself became a very creative pair and busy organizers. From the following year on there were more and more concerts, mainly at the EKH in Vienna and with the guys from E.M.S. at the youth center BAGGER in Waidhofen/Ybbs.
Between 2001 and 2007 nine more records were (co-)released. Those releases were mostly with our own bands, but also with friends like BRAMBILLA, DESPERATE CRY and GRRZZZ.
Friends frequently took part in our label and concert activities and helped. Primarily our generation of people and activists of "the house"(the EKH), but also similar minded guys'n'gals from TÜWI, ARENA, V.E.K.K.S, FLUC, MOVIMENTO, CHELSEA or RHIZ.
On the other hand we, as "externals", became part of the EKH concert group, doing all kinds of things that need to be done in such a squat, but mostly concert related stuff. Friends moved in and out again, the Monday plenum became a regular appointment for us. In a nutshell, the label and the EKH are historically inseparable, this birthday party wouldn't make sense anywhere else.
Obviously this hasn't just been about the music, we're talking DIY-anarchist-punk/hardcore scene, a network of squats, bands, infoshops, zines and the autonomous, radical left. Yesterday and today.
In 1999 Gernot started the PLATTFORM zine, which – as far as I remember – existed until 2001 and saw 3 editions that were as thick as books: Punk, politics, emo, obviously.
E.M.S. disbanded in 2002, RADIKALKUR in 2003. I got involved in PHAL, CYRUSS and PHAL:ANGST and also some "just-for-fun" projects like DISCOVER, ANGRY KIDS und NIVE.
"Hate Songs" by CYRUSS in 2007 marked the beginning of a hiatus as far as labelreleases were concerned. The band itself split up in 2009. Activities regarding live concerts presented under the label's banner were strongly reduced from 2007 on as well.
This hiatus lasted until 2014, when we wanted to release our PHAL:ANGST album "Black Country" and decided to do it more or less professionally, so we reactivated the label in a somehow different form.
In the following year I published NIVE, a punk rock album made of songs written and recorded between 2009 and 2011 driven by newly found enthusiasm and coming to terms with some spirits of the past.
CYRUSS was made available. All PHAL:ANGST albums have been (re)released. The latest release was the new PHAL:ANGST album "Phase IV" in September 2018.
Twenty years have passed, and the label is still active, sometimes more, sometimes less, it was quiet for a few years, and there has been some redesign in the way of running it. But let's not take things too seriously. We are celebrating the 20 years jubilee! With this compilation cd and a party with the bands DIM PROSPECTS, FLOWERS IN CONCRETE & GFRAST at the good old EKHouse.
Credits:
Gernot and I were the driving force behind BLOODSHED666 until about 2006, since then I have been running it alone. It would have been impossible without the help, support and co-identification of so many friends, especially Philipp. But also Marco PARANOIA!, Andi Superlupo, Astrid, Kathi Battlecat, Klaus, Farid, Poty, Veit. The inhabitants of the EKH, the EKH concert groupand the EKH Infoshop. Jochen, Stefan, Mops & BRAMBILLA. Andi / TÜWI, Herbie / RHIZ, Malus & Philipp & Zottl / ARENA, Georg & Tibi / V.E.K.K.S., Walter (r.i.p.) / MOVIMENTO, David / CHELSEA, Peter / FLUC, Latti, Besen, Jan CAPEET. Waidhofen gang Helga, Michaela, Familie Wihalm/Lindner, Hautsch, Richie, Bernhard, Maria, Markus, Früden, Hatsch, Michael, Idi, Daniel. Computer wizards Dave &Dion / med-user.net. Lately Kathi F., Lupo & Mentl. And all those I have forgotten, very much sorry!!

Alfred, 2018
1998 – ca. 2006: Barred:
It feels like ages ago: In 1998 the first RADIKALKUR/E.M.S. split 7″ was to be released so we set up our own little label. These days you would probably call it a "startup" and there were times when it had a rather interesting drive. Swapping and selling suddenly became day-to-day activities. Placing ads in fanzines, looking after new releases, etc.: All that was possible and made perfect sense, everything was clear and went without saying, it was DIY. Of course all that was set in context with our financial means. Looking back, pressings of 500 resp. 1000 copies were totally crazy, or over-ambitious, but at least there are no more copies left of the very first 7″. I think these days I would only release digitally: no copyright, shoving it onto a server for free download. But BLOODSHED666 would never have come into existence like this. As far as I am concerned I ended my involvement in the label around the middle of the zeroes. Looking back I can't really say why. It was a process, and the end surprised me just like the beginning did. It's great that Alfred is keeping the project alive, that's the way it's supposed to be!
Gernot, 2018
MED-USER.NET is also celebrating it's 20th birthday!
You may have noticed that the URL www.med-user.net keeps popping up if you research the label. The most prominent user is the EKH, but also many label related bands. "med-user" aka "media-user medusa" is a one-man non-profit-organization which has also been active since 1998(!), is supporting free non-commercial internet access in the digital jungle, is pro cultural and societal networking by using new media. Webspace, email addresses, URLs, mailling lists are provided for individuals or groups involved in art, culture and/or political and/or societal issues. It's non-profit, without ads and does not collect data. For the left, by the left, if you like.
EKH
The ERNST KIRCHWEGER HAUS has been a Viennese squat since 1990, a haven for various far-left, autonomous, anarchist people, groups and activities. It was named after the first political casualty of the Second Republic: Communist Ernst Kirchweger was beaten to death by right-wing-extremists during an anti fascist rallye in 1965. In 2008 "The House" was given rental agreements.