Sept. 24th, 2020. Due to the current situation VENSTER99 goes ArenaBeislOpenAir, and our releaseparty has been moved to Fr., Nov. 13th. Stay safe. Stay sane. And fuck the government.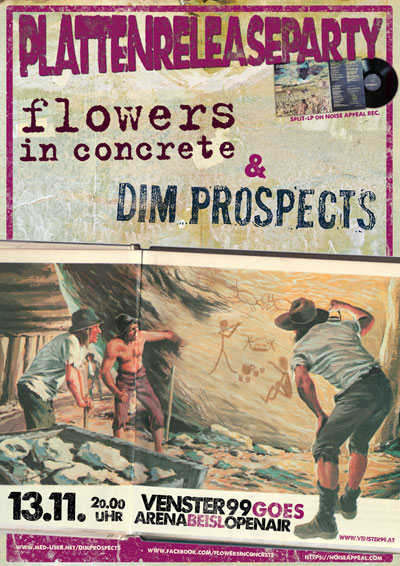 Aug. 24th, 2020. Finally!!! The first split-LP-releaseparty - together with Flowers In Concrete at Venster99 on Oct. 17th has been confirmed!! Fingers crossed nothing goes wrong in the meantime... See you there!!
July 31st, 2020. Hey there, hope you're fine. We'll be playing on Aug. 4th at the Arena Beisl Open Air starting at 20.30 sharp; concerts have to be finished at 22.00. And we're selling our new record there. See you! All the best!
May 30th, 2020. Hey, the vinyl's been delivered! You can listen to the Noise Appeal Special Radio Show on grazil FM here. Rainer Krispel did a nice review on youtube, thanks a lot!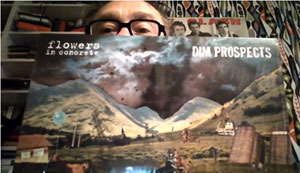 Hi everyone, it's May 9th and the split LP with our dear friends Flowers in Concrete is out!!! Listen to it on Spotify (yes yes, Dim Prospects go 21st century…)
You can already order the digital version, the physical one is ready to order in a few days due to a short delay via noise appeal if you live in Austria, order here if you live in Germany or in the Netherlands.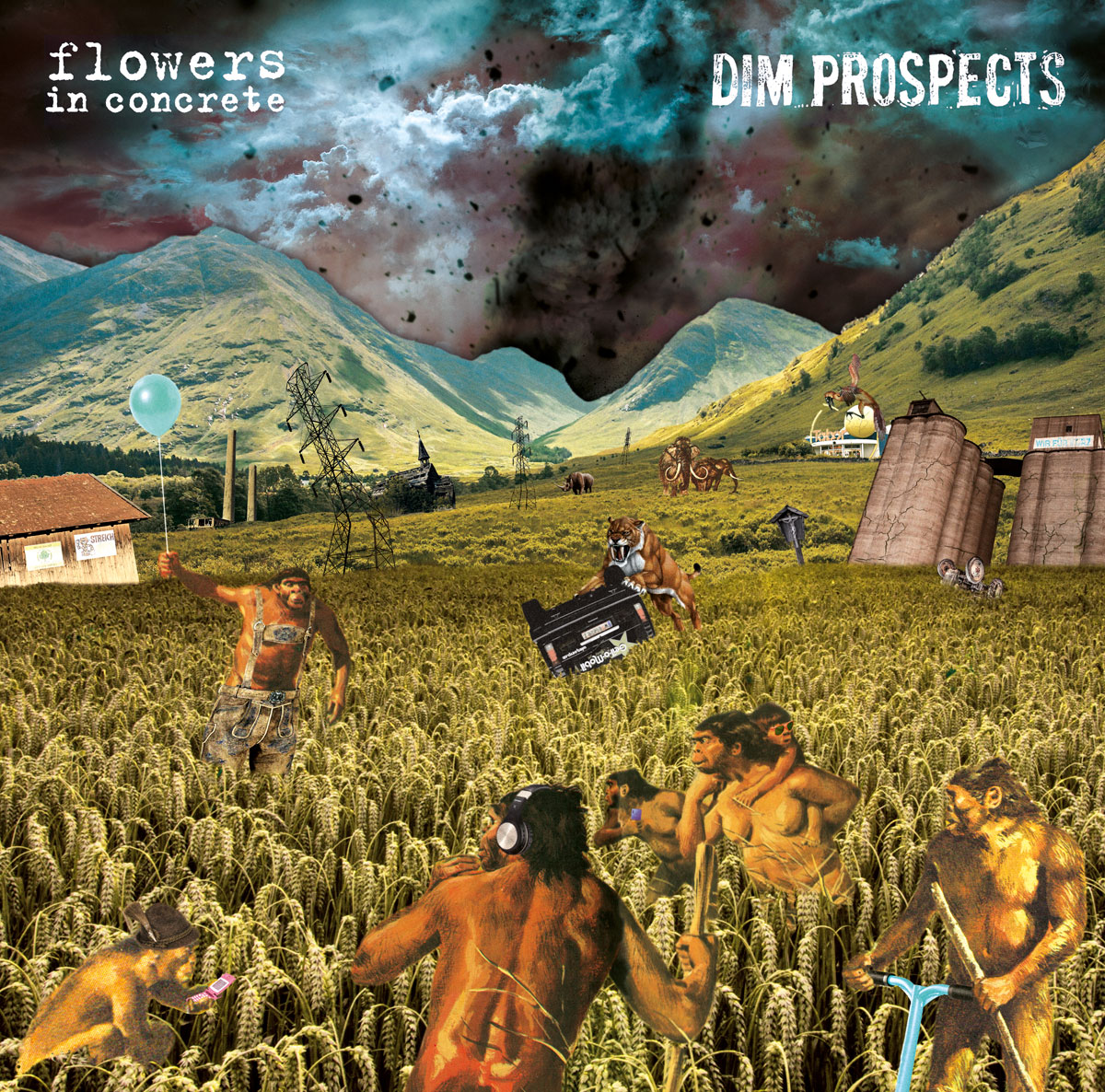 There are already some reviews, check them out in the noise appeal webiste. Dim Prospects and Flowers in Concrete will do two radio interviews, more next time.

Sure, release shows have been planned for fall 2020, fingers crossed… take care and don't let the conspiracy theories fuck with your head!

Hi there,Our split LP with FLOWERS IN CONCRETE will be released on May 8th, 2020. Here's the presale link https://store.noiseappeal.com/shop/music/vinyl/flowers-in-concrete-dim-prospects-split. Releaseparties? After the summer, we guess. Take care!

hey folks!

we're done recording, and also the mixing is nearly done. The songs will be released on a split LP with our dear old friends FLOWERS IN CONCRETE on NOISE APPEAL RECORDS in spring 2020!! see you!

ahoi! besides the two upcoming concerts we'll be recording 5 Songs with Nikolaus Preglau in November. More later!

Hi there! Here's a clip of Papers and Waiting, and here's the full concert at KAPU. Enjoy! INTERVIEW

Listen to the Radio Augustin Interview. Klick!

REVIEWS

They're already some reviews of the 7inches in the RECORDS section!

ON THE AIRWAVES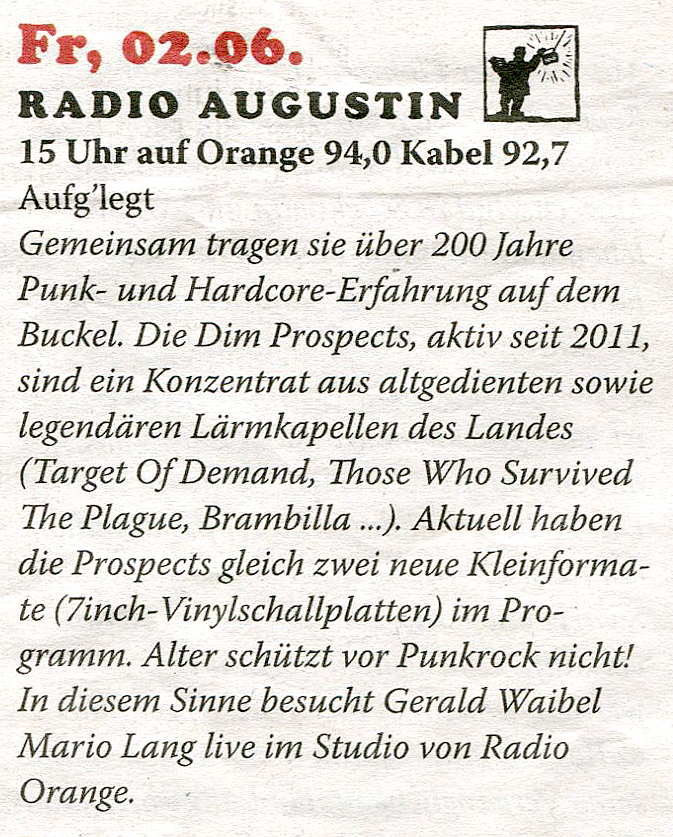 visit the Radio Augustin website!

SEVEN INCHES. We'll be releasing two 7inches this spring, a 3-song 7inch on our own label Lunadiscs and a split 7inch with DEMENZIA KOLEKTIVA on our old friend Marco's Label Santa Diabla... release-parties will be announced!

STUDIO. We've been recording 6 songs, again at Elephantwest Recording Studio with Nikolaus Preglau. Songs are in the mixing; so we're all waiting...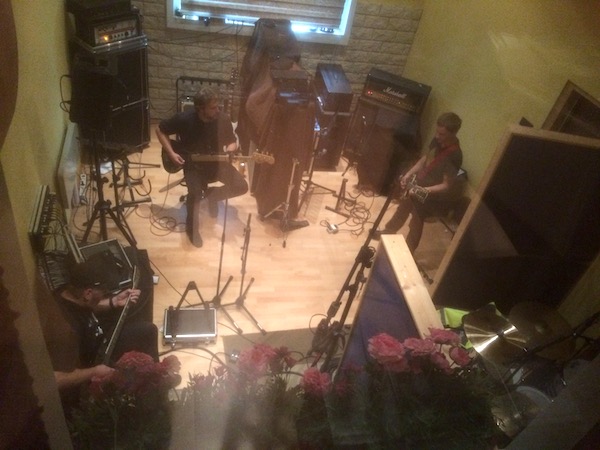 PHOTOS KAPU. klick!
NEW T-SHIRTS. Mops made some new T-SHIRTS!
VENSTER99 PHOTOS & VIDEOS
Suzie. took some nice shots and there are also three videos on youtube, thanks to PRiESTERSEMINAR!

THERE WILL BE SHIRTS...
and there are already buttons. Klick!
VENSTER
We will be playing with the fabulous Nervosas on Sept. 10th at the VENSTER. Looking forward, and thanx, Schurl
PHOTOS...
taken by Mario Lang at the Album Release-
party June 12th, 2015. Thanks a lot!
WHERE TO BUY THE VINYL...
You can get our LP on discogs.com, twisted chords,
or via flight13.com Aug. 2015
- or simply contact us
IT'S GETTING UGLY NOW...
LP + MP3 out in June 2015.